Previously, we thought about how to best organise website content and developed a site tree.
We also considered which website elements will be necessary and designed a wireframe.
Now, you are almost ready to jump into the design stage.
However, the designer still doesn't know your product and who you want to sell it to. Therefore, we need to tell them.
What is a Design Brief?
The design brief is a document which will be filled in by the client, ideally under guidance of your web agency.
Think of it as a web-specific marketing plan which in an ideal world each business should have at the ready.
In most cases, you would already have collateral like printed brochures or leaflets, business cards, letter-heads etc. in your corporate identity (CI).
The website design needs to match your CI. Once complete, the design brief will be sent to the graphic designer and lay the ground work for your new website design.
The design brief contains questions regarding: short and long-term goals, audience profiles, perception and tone, branding guidelines, competitive positioning, targeted messages, customer relationship considerations etc.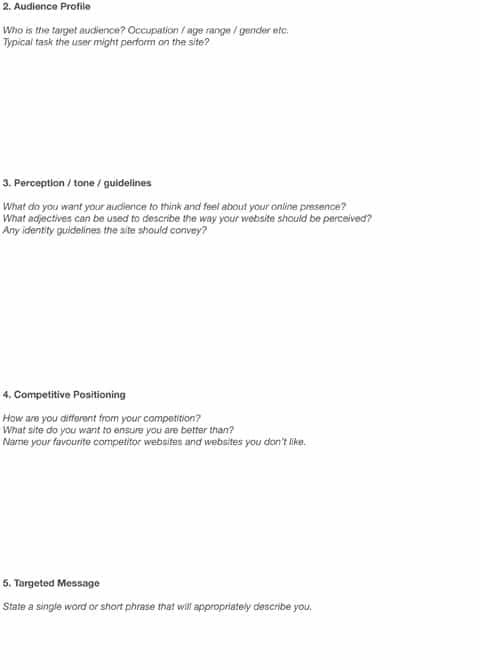 Sample questions from a Design Brief Template
What is the purpose of a Design Brief?
The designer needs some information about your hotel and who you are planning to sell your rooms and services to.
Each hotel is different and has their own Unique Selling Point (USP) which the designer must know about in order to be able to emphasize this visually.
It is very important to think the questions from the design brief through properly and be as specific as possible.
That way, the designer can develop a successful and bespoke design without having to go through many expensive trial and error stages.
Therefore, a comprehensive and specific design brief will keep down design costs later on!
For example, audience profiles should be part of the general marketing plan of a hotel already and should only have to be repeated in the design brief.
What isn't helpful is defining a target audience of "adults between the age of 20 and 55" as this is far too general?
The designer needs to know whether they are meant to be designing a hip and cool website for a young audience or something rather formal for the business traveller – to pick just two examples on the very ends of the spectrum.
Attach any printed collateral which shows your CI to the design brief or if you have a brand book listing color schemes, fonts, logo options etc., add this. Your logo and preferred photos of the hotel should also be provided at this point as the designer will use them in the mock-ups.
With all this, the designer will now be able to make a start and you are finally entering the design stage.
You will soon be provided with mock-ups showing your newly designed website and all this preparation will have paid off!